Press & Media Coverage

Green Roofs: A Primer
Publish Date:
September 24, 2015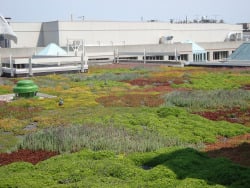 (August 5, 2016) Excerpt from an article in Stormwater Magazine.
With their myriad benefits, green roofs are becoming increasingly incorporated into new and existing projects. The International Green Roofs and Walls Project Database lists 1,599 projects totaling 33,334,677 square feet, and the number is growing. Green roofs—also known as vegetated or garden roofs—are key green infrastructure elements and are being increasingly recognized for their "valuable ability to absorb, reduce, and delay stormwater from reaching sewers or other grey infrastructure systems," says Richard Hayden, garden roof product manager with Chicago-based American Hydrotech.
Green roofs work by storing rainwater in several areas of a layered assembly: in open pore spaces of the growing media and within the drainage and water retention system that underlies the growing media and plantings.
The rainwater is retained until the assembly is completely saturated, and excess water is slowly released from the roof into the site's stormwater system. Stormwater runoff volume also is reduced because of evapotranspiration, which cools the surrounding air.
Green roofs filter particulate matter and chemicals through the plants, growing media, system filter, and drainage layers, mimicking natural hydrology systems such as wetlands and similar structures.
Read the full article to learn more about how green roofs work, benefits, costs, site characteristics, installation, maintenance, fire safety, and academic research.