DuPont™ Styrofoam™ Brand Insulation
DuPont™ Styrofoam™ Brand Insulation
DuPont™ Styrofoam™ Brand Insulation is an extruded polystyrene insulation ideal for exposed wet applications, and has the following characteristics...
Thermal stability..."R" value of 5 per inch
Excellent for exposed applications...Moisture resistant & Dimensionally stable
High-compressive strength...25, 40, 60 or 100 psi (to fit the use
Environmentally friendly...CFC free & Recyclable
Dow Chemical developed what is known today as the Protected Membrane Roof (PMR) assembly, and in the 1970's Dow and Hydrotech started marketing the first PMR configuration that could be offered as a single source warranty. For over 40 years, only Styrofoam™ Brand Insulation has been placed over Monolithic Membrane 6125, in both roofing and waterproofing applications. As the market accepted the PMR concept, Hydrotech was again the first to offer innovation – the first PMR warranty to include removal and replacement of the overburden. While Styrofoam™ is now a DuPont brand, the partnership continues as it has from day one, offering the best combination of products and assemblies all covered by a Single Source Warranty.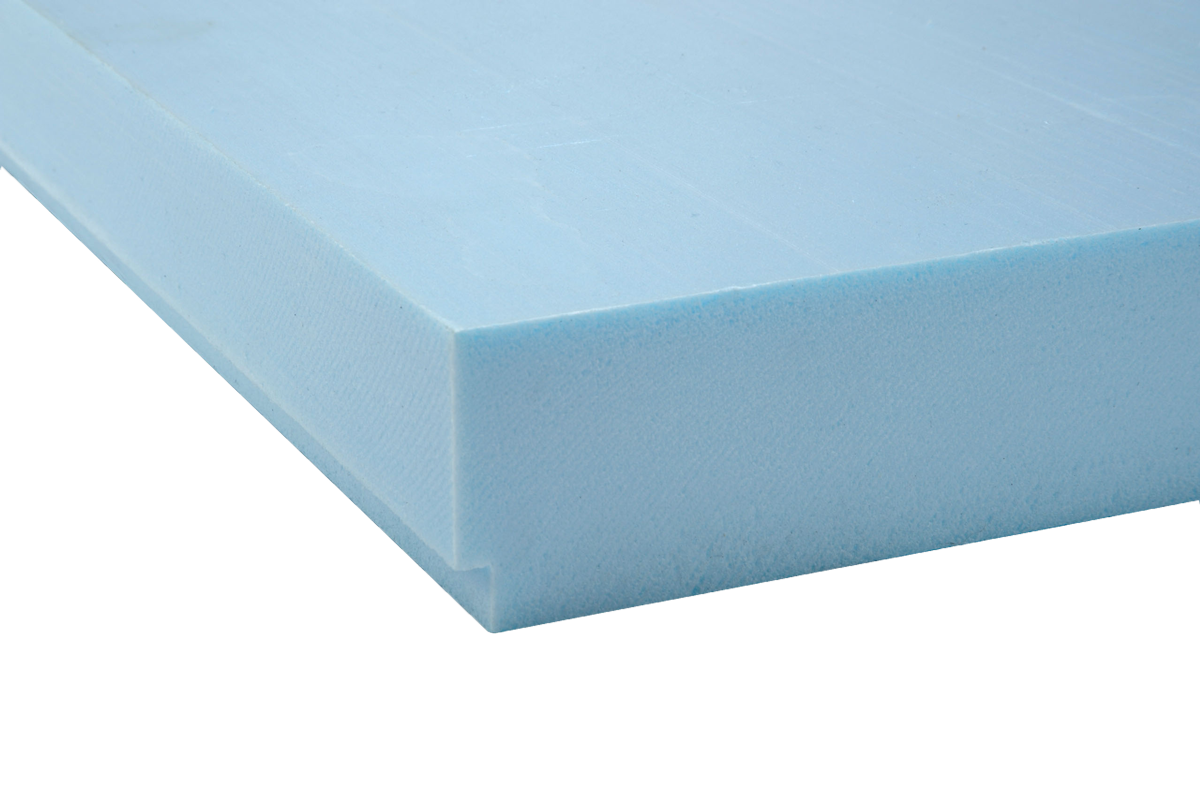 * As states and provinces across North America continue the phase-down of HFC blowing agents in response to current environmental codes and regulations, DuPont is phasing in new, reduced global warming potential (GWP) formulations of Styrofoam™ Brand Extruded Polystyrene (XPS) Foam Insulation. Styrofoam™ Brand XPS products manufactured with the new formulations will be produced in a new, design friendly grey. The changeover is taking place first in Canada and select states, with plans to expand the product offering going forward.
DuPont™ Styrofoam™ Brand Insulation ST-100
DuPont Performance Building Solutions has introduced a new Styrofoam™ Brand XPS formulation that significantly reduces global warming potential (GWP) and embodied carbon, all without compromising on quality, durability or thermal performance. This means that Styrofoam™ Brand blue is transitioning to grey.
Styrofoam™ Brand XPS ST-100 delivers the same R-value — R-5 per inch thickness — for long-term thermal performance. The grey color lets you know it was made with a reduced GWP formulation and has the following characteristics...
Long-term compressive strength in load-bearing applications (available in 40, 60, and 100 psi)
Tough and versatile for commercial high-load, low-temperature or geotechnical applications
Superior resistance to water absorption, water vapor transmission, and freeze/thaw cycling
Resists compressive creep and fatigue
Ideal for insulating green and blue roofs (water/rot-resistant)
Reusable
When you use new, grey low GWP Styrofoam™ Brand XPS, you will get aesthetics, performance and sustainability all in one.
Download DuPont's press release on achieving Low-GWP standard and learn more about Styrofoam™ Brand Insulation ST-100 at beyondblue.dupont.com