Press & Media Coverage

City Creek Center Rooftop Water Features Complicate Build
Publish Date:
July 1, 2016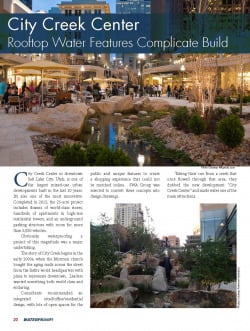 CHICAGO, ILLINOIS (July 1, 2016) City Creek Center in downtown Salt Lake City, Utah, is one of the largest mixed-use urban developments built in the last 10 years. It's also one of the most innovative. Completed in 2012, the 23-acre project includes dozens of world-class stores, hundreds of apartments in high-rise residential towers, and an underground parking structure with room for more than 5,000 vehicles. Obviously, waterproofing a project of this magnitude was a major undertaking.
The story of City Creek begins in the early 2000s, when the Mormon church bought the aging malls across the street from the faith's world headquarters with plans to rejuvenate downtown. Leaders wanted something both world class and enduring.
Water serves as a central feature. Reflecting pools, fountains, and a stream all sit atop a massive "green roof." Consultants recommended an integrated retail/office/residential design, with lots of open spaces for the public and unique features to create a shopping experience that could not be matched online. SWA Group was selected to convert these concepts into design drawings.
Taking their cue from a creek that once flowed through that area, they dubbed the new development "City Creek Center" and made water one of the main attractions. The central organizing feature is City Creek itself, which re-emerged after more than a century underground. The stream and promenade begin at the northeast corner and meander in an S-shape across the entire project. Along the way, the stream flows through a pond—stocked with live trout—and drops over two 18-foot waterfalls. This pedestrian-oriented green space runs the length of the development, about 1.2 kilometers, and drops more than 40 feet in the process.
Over 300,000 square feet of Monolithic Membrane 6125 is used under the plaza, hardscape, planters and water features to create a one of a kind shopping experience.
http://waterproofmagazine.com/back_is…/201606/City_Creek.php