Press & Media Coverage

American Hydrotech Installed at Levi's® Stadium
Publish Date:
September 5, 2014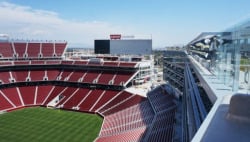 CHICAGO, ILLINOIS (September 5, 2014) American Hydrotech, Inc., a recognized leader in the development and distribution of premium waterproofing and roofing products, is pleased to announce that Garden Roof® Assembly and Ultimate Assembly technology are installed in Levi's® Stadium in Santa Clara, Calif.  These green spaces are part of a larger renovation for the new home of the San Francisco 49ers, which achieved new sustainable benefits and aesthetic appeal for fans and arena patrons. 
More than 350,000 sf of American Hydrotech's waterproofing membrane was used to install a green roof atop the suite tower on the west side of the stadium.  Hanover Architectural pavers offer added flexibility to the design of the 27,000 sf of Garden Roof Assembly and 20,000 sf of Ultimate Assembly full of growing local media. American Hydrotech materials can also be found on more than 60,000 sf of below grade vertical walls throughout the stadium. 
"We are thrilled to be part of such an exciting stadium project," said Chuck Cronenweth, Western Regional Sales Manager for American Hydrotech. "Our Garden Roof Assembly and other American Hydrotech technology will perform for years to come and continue to underscore the arena and city's commitment to sustainability and modern design."
For photos of the project, courtesy of American Hydrotech, please visit http://www.hydrotechusa.com/projects/levis-stadium.